Which Technique Do I use? – A Hypnotherapist's Dilemma
When new supervisees come to see me, I often breathe a heavy sigh. Not because I have any personal liking or disliking for them, but because I can hear just how much of a long haul it's going to be before they start to feel really comfortable with their clients. I hear, 'Do I use this technique or that technique? In actual fact, I can feel often quite sad. And I'll tell you why.
Care and Compassion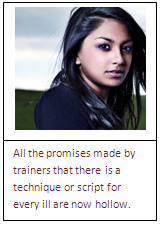 People in our industry mainly come into this career because they have a great deal of compassion and caring for others and want to share the benefit of their years of living. It is a very noble calling. Some, of course, get 'hypnotized' by the power of being able to zap people with techniques and get some good results. But for the former group, their desire to help is so powerful, that if they fail at helping a client, their world, albeit temporarily, falls apart. The onus of responsibility that they have taken on to fix all mankind, betrays itself in a kind of sadness and helplessness that comes through when some come into supervision for the first time. It feels all the promises they have been made by their trainers that there is a technique or script for every ill, are now quite hollow. Many begin to doubt their initial training because it's left them cut adrift in this lonely world of therapy. So therapists, on their quest for that illusive technique that will fix everything, go on the next course to learn even more techniques and then yet more courses. But still it doesn't hang together.
Lack of Insight
So that's why I feel sad: that therapists, and I'm not just talking privately trained but often state trained, university educated therapists, can be left to do a job, that is so important to their clients, without adequate insight into what is driving their own lives.
My job is to draw to my supervisees attention the fact that how they are going about their work, is littered with their own fears of failure, and that whatever they most fear, they are likely to attract to themselves. Because without that insight, work, for some, can then become a painful austerity. The joy of helping leaves them and it becomes a personal trial every time a client enters their practice. Reminded by their clients of their fear of failure, many leave this profession before they ever really got started.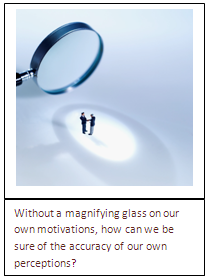 Without a magnifying glass on our own motivations and impulses, how can we be sure of the accuracy of our own perceptions?  For example: if my ex husband was an abuser and I was better off without him, I wonder how much I might over identify with my client, whose husband, I think, is abusing her, but whom she wants to stay with?  Am I conscious of my own inner workings or am I just assuming my client must be in the same position as I was?  
Supervision
Hiring me as your supervisor, phone or in person, on a fortnightly or monthly basis will focus the magnifying glass on your therapeutic relationships and help you develop yourselves but there is nothing so powerful as doing some very deep and significant work with a group of your fellow peers. So that's why I want to urge you to consider training with me. I see my job as being to develop in you that unshakeable confidence that will guarantee that you can manage every one of the clients that walk into your room. Notice the word, 'manage'. You do not have to feel you have failed if your client doesn't recover within the allotted number of sessions. Techniques will only take your clients so far. The rest is that illusive interpersonal relationship that depends upon you having all your own personal ducks in a row.
Here are a few testimonials for you:
"I started training with Jenny 1 ½ years ago. She has really helped me understand myself and 'be ok' with who I am. I lead my life with confidence and on my own terms. As a result I now feel totally connected with the outside world. I also understand that other people's negative comments say more about them; they are not part of who I am or what I stand for. Jenny has helped me develop an inner strength and an increased spiritual awareness and for that I am very grateful." May 2007 Sam, Hypnotherapist London.
"I …have benefitted in so many ways I never expected. I learned several useful models and how they fit with real people but more than that, I've discovered lots about myself and what I bring to the therapeutic relationship. This course and supervision from Jenny has helped to iron out many niggling issues I had with how to handle clients, and how to interpret my own feelings in relation to them. I feel much stronger now and more confident when dealing with a range of issues – my focus has sharpened on the interactions between us and the clues this gives me about how my clients operate in their own lives. I would recommend this course to anyone who wants to feel more comfortable in the therapist's chair." Catherine – Hypnotherapist
And of the CFS course…

"I'd like to say that I thoroughly enjoyed the five-day course on CFS/ME. It was highly informative, wonderfully practical and fun too. It was all three because you are an excellent teacher – expert in your field, generous with your time, gentle with your students, yet firm enough to ensure that everyone gets maximum benefit from the teaching they receive. What was just as remarkable was the fact that every student was encouraged to attain some personal growth. I had not expected it, and I resisted it with as much cunning as I could muster. I'm pleased to say that my reluctance was overcome – eventually! Nothing had prepared me for what I experienced. The benefits are still with me – and still growing. " Mike, Hypnotherapist, Birmingham.
Subscribe to the FREE newsletter to your right here and make sure you stay in the loop on training a learning opportunities.