The Open Mind Guide to Giving a Successful Presentation in 7 Easy Steps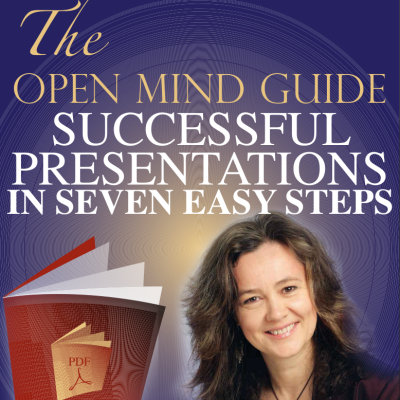 Want to give a presentation yet not sure how to do it?
Do you feel that presenting could take you on the next rung of your career progression?
Do you want to use presenting to raise your profile and status to command more money or more influence?
Have you been thrown into this uncomfortable role by your business and you are struggling to survive?
Then you need to own my Open Mind Guide to giving a successful presentation in 7 easy steps.
Whether you present occasionally or often, you can never glean too much about how to give a presentation or talk. Learning how to manage your audience, how to present your speciality, how to build expectation and deliver a great talk are all skills you can break down and master and from reading and studying my Guide.
From organising your content, to talking to yourself positively and supportively, to relaxation and breath control, you need to be your own best friend if you are to put yourself up in front of others and lay yourself open to scrutiny.
Confidence, Technique, Attitude
The reason I have decided to write 7 step ebook to giving Successful Presentations is because I have met so many people who have come to me over the years who want me to 'hypnotise' them to be more confident giving talks and presentations.
Hypnosis for confidence is just one aspect of gaining some more self assurance to be able to manage this task. The rest is all about technique and attitude.
I can teach you how to relax when you see me on a one to one, but it would take more than a session of hypnotherapy to teach you how to organise your presentation.
Access My 15 years Experience For Less Than The Cost of Dinner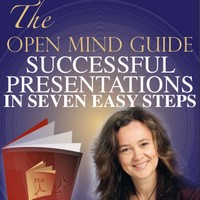 You might be wondering why am I qualified to do this? The fact is I have been giving presentations and talks for the last 15 years!
As I reflected on what you need to know, I had to revisit in my earliest days of teaching and presenting, some of the feelings of fear and anticipation I used to have and how I overcame them and the lessons I was taught about organising my content and managing my audience.
I had to remember the kind of attitude I had to develop to be able to stand in front of a room of people and teach them the information that I held in my mind. This is a daunting prospect for many people!
However you can master those skills quickly when you apply my Open Mind Guide to Giving a Successful Presentation in 7 Easy Steps.
Different Audiences, Different Expectations
In those 15 years I have taught languages in business, at university, in schools and primary schools and in the last 8 years with my self-development hat on, given talks to crowded lecture theatres and public speaking engagements including NHS nurses, doctors, psychiatrists, as well as presenting to my peers.
I've also presented to business groups and various interest groups, charities and clubs. Each time I have had to cater to a different audience with a different remit. And each group comes with different expectations of their presenter.
Learn From My Mistakes, Not Your Own!
So now I want you to benefit from all my years of experience, and even from some of my failures as I describe to you what works and what doesn't work.
If you're serious about your career and presenting is the next logical step in your progression, then you need to study this downloadable e book which you can download right now by clicking on the buy now button.
If you find yourself needing to hold onto a job which is changing before your eyes into a presentation style role, then you need to learn quickly and thoroughly about how to deliver that captivating presentation. My Guide to Giving a Successful Presentation in 7 Easy Steps will help you do just that.