The Open Mind Guide Chronic Fatigue Training Package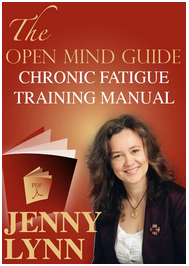 Learn How To Treat CFS and Earn Yourself A First Class Reputation
Enjoy All The Benefits of A 3-Day Weekend Seminar in CFS Training Without The Price Tag!
Have You Ever Felt Any of The Following When A New Client Enters Your Office?
"I'm out of my depth: I don't have a script for CFS"
"What do I do when there doesn't seem to be any change?"
"I might fail with this client"
Allow me to provide you with practical and effective CFS training and show you;
– how to be intuitive and creative about your interventions
– how to identify and disarm your own fears so you can work more clearly
– how to succeed more often with this difficult and mysterious condition
If you are looking to gain understanding and confidence in treating CFS and being able to transfer these skills to other areas of your work then my Training Package for Chronic Fatigue Syndrome is exactly what you are looking for!
The Open Mind Guide To Giving Successful Presentations in Seven Easy Steps

Want to give a presentation yet not sure how to do it?
– Do you feel that presenting could take you on the next rung of your career progression?
– Do you want to use presenting to raise your profile and status to command more money or more influence?
– Have you been thrown into this uncomfortable role by your business and you are struggling to survive?
I have been giving presentations and talks for the last 15 years and in those 15 years I have delivered presentations in a wide variety of settings and environments. To businesses, at universities, in schools and primary schools, to crowded lecture theatres and public speaking engagements to NHS nurses, doctors, psychiatrists, to business groups and various interest groups, charities and clubs.
Read more about Giving Successful Presentations
The Open Mind Guide to Dealing with your Anxiety

If you've Ever Experienced Dreading Waking up in the Morning, I can help you!
Learn How to Understand your Anxiety and Manage it Better
The Open Mind Guide to Dealing With Your Anxiety
Many people are overwhelmed and frightened by anxiety and panic attacks and the lack of understanding of what they are there for make the anxiety and panic even greater… you might find yourself
– Getting anxious you'll have an anxiety attack
– Dreading getting up in the morning
– Thinking obsessive negative thoughts about yourself
The sad fact is that there are many more symptoms to anxiety and many people's lives are destroyed as a result. But this does not have to be the case, as you will discover by reading The Open Mind Guide to Dealing With Your Anxiety
Read More about The Open Mind Guide to Dealing With Your Anxiety
Training Video for Chronic Fatigue Syndrome

Extend your practice by watching this Training Video on How to Treat CFS
You could gain a specialism sitting in your own living room!
You know, not many people know which premise to start with when it comes to treating Chronic Fatigue Syndrome!
The medical professionals come from the premise that it is a physical disorder. Some come from the premise it is a mental or emotional disorder. Few however, view it as a disorder of the two: each as important as the other in the healthy resolution of this condition.
I aim to dispel this 'either/or' myth around Chronic Fatigue Syndrome in this video.
Find out more about this Chronic Fatigue Syndrome Training Video