Training Video for Chronic Fatigue Syndrome
Extend your practice by watching this 1 Hour Training Video on How to Treat Chronic Fatigue Syndrome
You could gain a specialism sitting in your own living room!
You know, not many people know which premise to start with when it comes to treating Chronic Fatigue Syndrome!
The medical professionals come from the premise that it is a physical disorder. Some come from the premise it is a mental or emotional disorder. Few however, view it as a disorder of the two: each as important as the other in the healthy resolution of this condition. I aim to dispel this 'either/or' myth around Chronic Fatigue Syndrome, which I address in this video.
What's In This Training Video on How to Treat Chronic Fatigue Syndrome?
In this training video you will learn about:
the psychological traps that sufferers find themselves in,
what kind of belief systems might perpetuate the condition,
what integrative therapy is and how it can help,
what kind of help sufferers of CFS ideally need,
how to work with vary many different styles of personality,
how stress has become so subconscious with CFS,
how the anxiety loop works with this condition,
advice on physical support,
what kind of skills therapists need to develop,
a therapist's personal obligation,
the value of working integratively
This training video gives you as much as I can to help you develop your practice in this intensive hour. With it comes the slide show as a pdf download so that you can print them out and make as many notes on the slide handouts as you like.
If you already have an eclectic style of therapy this could be all you need to offer more in-depth knowledge of CFS and how to treat it.
However, if you are inspired to train more with me in an integrative style, why not consider my 'Learn to read your client and develop your intuition' Course in early summer 2011. Just click here and scroll down the page, to sign up so I can keep you informed.
Escape From Your Theraputic Straitjacket!
If you are a Hypnotherapist interested in developing your practice you may be wanting to break out of a therapeutic straight jacket and extend the breadth of your practice to integrate other skills.
Psychotherapists interested in developing your practice may be wanting to move away from talking about recovery to causing clients to experience a deeper, more essential experience by accessing the subconscious in the here and now.
Together, a range of hypnotherapy and psychotherapy skills will not only develop your clients, but also develop you so that every client you meet you can do something with.
The personal development you receive by working with Open Mind will directly pay off with your clients. So if you want to know more about how and why that is, this video training will describe to you the benefits and obligations of working more integratively.
Get The Equivalent of A Full Supervision Session For Only Half The Cost!
The recording of this video took place in London on 26th August 2009 and was advertised with the GHR and constituted CPD points. In terms of value, this is an opportunity that will cost you only half the investment of your average supervision session. Whether you want to discover more without attending a seminar, or just add to your existing eclectic style; this training video could be just right for you.
Get 9 Full Years Worth of Research Condensed Into One Hour For Just £21!
So for just £21.00 I share with you the 9 years of research and personal insight I have arrived at through working with dozens of people with this condition.
My local doctors have referred me their ME/CFS patients because they don't know anyone else who can reach so many of them so effectively. You don't have to sit through client after client trying to work out what is going on with them, because I hope to show you the commonalities you will find in belief systems of people with CFS, how many and varied are their circumstances and personalities and how you can learn to tailor your therapy to suit everyone that walks through your door.
And if you want to learn more about working integratively with Chronic Fatigue Syndrome and give your therapy practice the boost it needs, then take a look at my Chronic Fatigue Syndrome Training Programme and discover what's on offer.
I'm looking forward to getting to know you or even to working with you!
All the best.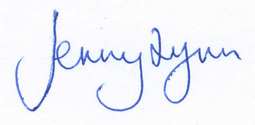 Jenny Lynn Integrative Therapist and Trainer Open Mind School of Therapy