Tuesday, March 20th, 2012 at 12:49 pm
Open Mind – Supporting and Developing your Hypnotherapy practice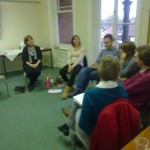 If you've ever wondered how you might get to see more than half a dozen or a dozen clients a week without doing tons of prep and loads of writing up after, you may find my proposition at the Open Mind Therapist.com useful.  Coming to a group meeting and experiencing what's on offer in terms of personal and professional development, career progression and professional support and supervision is your first step towards learning how to work more intuitively and creatively.  And what's more, the first time you meet with us there is no charge.  The reason for that?  I know that many part with money up front and then are sorely disappointed by the training experience they receive, while others thought it was great.  How can the same course elicit such opposite experiences?  The truth is, I guess, people are all different and of course, not everything you see marketed and advertised lives up to its promise.  So I simply want you to come and try us out with no obligation.  If you like how we work and you fit in with us, then you are welcome to subscribe and join with our growing number of Open Mind Therapists who are Hypnotherapists with a difference. 
If you feel you fit in to one of these categories, you may find one of our groups beneficial:
Fresh in practice and still finding your feet

In practice a year or 2 and still not feeling settled nor busy enough to make a living

In practice perhaps many years but unable to find a truly integrative or eclectic supervisor who can advise on the diverse range of clients you see.
One of my trainees turned supervisee commented that he'd come to train with me in my CPD course in ME/CFS to specialise because he found the prep for all the different cases he was managing far too time consuming.  He wanted a predictable type of client that he could offer a strict protocol to.  He was surprised when I said I have none.  What he learned instead was how to be intuitive, use his existing knowledge much more creatively, and to take the anticipation out of meeting clients.  When he joined my supervision/career development groups he received 6 weekly support, advice, personal development and career progression that supported his practice and turned him into a full time integrative hypnotherapist with a waiting list…even through the recession.  And the secret?  He learned how to read his client and be far more flexible and intuitive in his approach.  The benefits of this of course are a deeper confidence, less prep, and more clients!
If you're wanting to add skills, gain a holistic view of your clients issues, treat according to their needs, to feel more confident and to find your feet in your practice, then our groups could be a great springboard for you to learn how to do just that.
Join me on 23rd March or our next meeting on 4th May at The Millfield Arts Centre, Edmonton North London.  Or alternatively, on 30th March or 18th May in Saracen's Head Hotel, Great Dunmow from 10 till 2:30pm.  To register with us and to find out more go to https://www.theopenmindtherapist.com
Jenny is a fellow and an accredited trainer and supervisor for the National Council of Psychotherapists, a member of the BACP and a supervisor for the Hypnotherapy Association.  She has been offering integrative training and supervision to hypnotherapists for around 8 of her 11 years as a practising therapist bringing with her her former teaching experience and her 30 years of buddhist practice.  Committed to therapist personal and professional development, Jenny has been running the The Open Mind Therapist.com website for just over a year and is attracting a growing number of hypno and psychotherapists who want to learn to work more intuitively and integratively