Why Just Knowing Something is No Use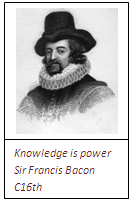 "Knowledge is power" is an oft quoted citation from Sir Francis Bacon's literary works. Bacon was a luminary of his time, an author and philosopher whose words are still quoted today. And he is right of course. To have knowledge is to hold great power.
Applied Knowledge
However, to not use that knowledge is a pointless waste of endeavour. Because one of the biggest inhibitors to using knowledge is indeed, the fear of its power. If we know what we are doing, we use knowledge confidently. If we don't know what we are doing, we hold back and live with endless self doubt.
So having knowledge and using it are two completely different concepts. In my early years as a buddhist, and I'm talking 25 years ago, I was attracted by the seemingly unerring logic and intellectualism of the buddhist philosophy. However, in those early years, when buddhism was still very unusual in our country, the movement attracted many people like me at that time: people who were more comfortable living with an interesting and scintillating theory than actually putting it into practice! As I grew to realise that this buddhist lark seemed to be about hiding, not confronting our demons, I became quite angry with it! I didn't want to sit in a cosy intellectualism and not move my life on.
Nowadays I realise that the growth of buddhism in this country was very new at that time, and we were collectively anxious about being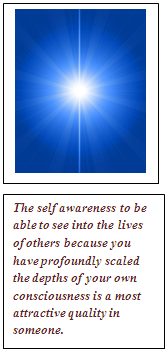 conspicuous so we hid behind clever theory, always on red alert to be able to defeat anyone's challenges as cleverly and as thoroughly as possible!
After 25 years, my inner motivations are crystal clear to me. No longer able to blame others for my inertia, I know profoundly it is up to me to carve out how I want to make my life happen….
Confusion
And that is where I become a bit confused. I see so much self doubt coming through on hypnotherapy forums, in e groups and in professional journals I wonder how anyone can live and indeed, do this very important work, without wanting a thorough underpinning to their practice. Without knowledge, there is no power. But without confidence knowledge is just lame. If you lack the confidence and know-how to put knowledge into action, you may as well have no knowledge.
Many of you may realise by now I am pretty much of an intellectual. However, my intellect is my servant, not my master. And my ethos is to show my clients and students alike, how to get in touch with your humanity and make your intellect your servant and not your master.
Being the master of my mind means I don't just think about things, I take action. It means I don't just stay where I'm comfortable, I challenge myself, at times, profoundly. It means I don't just spout theory, everything I teach you is from knowing profoundly my own human condition, and therefore the human condition of others.
Understanding Self

It is transference taken to extremes. I am the queen of transference! I understand the human condition from having developed a deep knowledge of the drivers of my own life. This is a most attractive quality in someone. The self awareness to be able to see into the lives of others because you have profoundly scaled the depths of your own consciousness. It also means that I know what we are capable of as human beings. I know how far I can push my clients and I know how much they will respond irresistibly to this energetic union.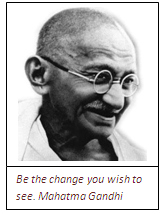 This awareness also means paradoxically I can feel great empathy and compassion for people, but I do not have to live their troubles with them. I trust that they will find their own solutions with a bit of help from someone who can lead the way.
Stop Thinking, Start Acting
So if you want to stop thinking and start acting, and find out more about your own blocks to creating a successful and vibrant therapy practice, then you too need to start 'being the change you wish to see'. (Mahatma Gandhi).
And perhaps then we can align ourselves confidently with another one of Bacon's oft cited quotes and know deeply that "by far the best proof is experience".
For more information on courses, go to the Read Your Client section and see what's happening.  Subscribing to my free newsletter, just above and to the right, will also keep you in the loop on training opportunities as well as a range of products to help with your practice.