2CPDers Gain their Read Your Client Foundation Diploma
Monday, January 17th, 2011 at 2:26 pm
It is with great pleasure that we launch the New Year with the news that, though only 2 were in attendance at last Friday's supervision/CPD day, 4 of my CPDers and Supervisees have received their Read Your Client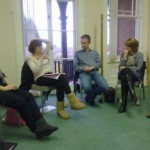 Foundation Diploma in Counselling and Psychotherapy.  They are now entitled to apply for membership of the National Council of Psychotherapists and call themselves Psychotherapists as well as Hypnotherapists.
Lisa, Wendy and Mark came through to train with me in October 2008 on my Unlocking the Mysteries of Chronic Fatigue Syndrome.  They were attracted to the course, not only because of the speciality, but because the course offered an integrative way of working with clients.  The broad application of the uses of integrative hypno and psychotherapy meant that their practices started to change as they did and they began to grow as integrative therapists. Catherine followed later the following year when she decided to train with me on my Integrative Approach Programme.
When I launched the Foundation Diploma course in autumn 2010, having received accreditation from the National Council of Psychotherapists, one of their first questions after studying the prospectus content was, how could they supplement the skills they had been learning with me in supervision meetings and the occasional integrative training day that would fast track them through to qualify in their Foundation Diploma?
It wasn't difficult.  As they were open and willing to learn and already keen members of the Soul Level Open Mind Therapist Supervision group I supplemented them with a day's training in December 2010 that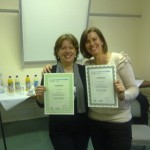 covered off the last few bits they hadn't yet learned with me.  Lisa said: "At last I can call myself legitimately a Psychotherapist as well as a Hypnotherapist."
While we know there is regulation afoot for psychotherapists to be able to continue to call themselves such without a state degree, Lisa and Wendy are for the time being very pleased to be able to display their certificates and to join the National Council of Psychotherapists.  I'll report more on the NCP's position to the looming regulation and keep you posted about PNC.

Filed under: Uncategorized
Like this post? Subscribe to my RSS feed and get loads more!